Based in the Yarra Valley, Wandin Florist has a solid reputation for high quality blooms, interesting foliages, gorgeous design and great service.

You'll be Guided Through a Tailored Selection Process

With tones & flower varieties right up until your Wedding Day.
Your Perfect Wedding Day
Package

Whether you're planning a small intimate gathering or a grand affair, we will look after you.
For Your FREE
No-Obligation Quote

You'll get the highest quality in visually enticing, unique flowers & floral presentations for your day.
- Choose from one of our 6 Wedding Packages -

No frills (duo), No frills (trio), Bronze, Silver, Gold & Designer.
Click our link below to view pricing & package details
Order your package online - a deposit of 20% will be charged for all packages except Designer Package
Final payment due 10 days prior to your wedding day.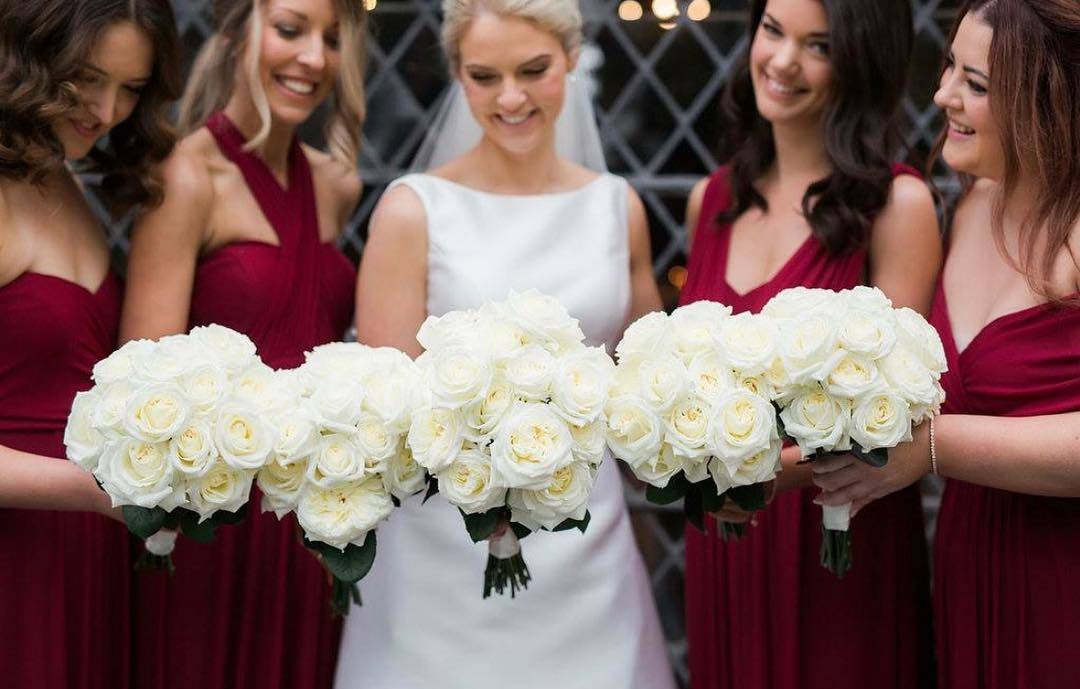 We love that every wedding is different, and every couple unique. We create a flower story that starts with the bride's bouquet and carries through to clustered posies or abundant flowerscapes for your guests to enjoy. Our passion is to create & design gorgeous flowers for your wedding that will truly be a treasured part of your day.

Our flowers will set the scene for a fabulous event. Textural foliages are totally on trend, lush tropical leaves and trailing vines. Floral backdrops for photos, beautiful arbours we have been renoun for and statement arrangements – we can create anything! We will work with you on your brief, incorporating your ideas with ours. We deliver and set up all your flowers at your venue, so you can relax and just enjoy the occasion.

Wandin Florist as featured in:
Talk to us today about your flower requirements - including:

Bouquets – Round, Teardrop, Modern, Classic, Rustic & Boho Designs

Bridal Party – Wrist Corsages & Round Bouquets

Ceremony & Reception – Bouquets, Reception Arrangements & your Bridal Table

Floral Crowns for Brides, Bridesmaids & Flower Girls – Traditional, Boho, classic

Table Centres – Mason Jars, Fish Bowls & Jar Groupings

Buttonholes – Traditional, Modern and/or Classic Styles
Corsages – Wrist, Shoulder, Traditional, Modern & Classic
Flower Girl – Baskets, Wands & Pomanders
Hanging Garlands – Ranging from 1-3 metres
Garlands – Table & Hanging, Gazebo, Arbor
Feature Displays – For your Ceremony & Reception
Arches/Arbors – Full, Quarter or Half
Hanging Installations – Large, Medium, & Small, and Ladders
Artificial/Silk Wedding Flowers Wedding Hire